Douglass Day
Each year, we celebrate the chosen birthday of Frederick Douglass on February 14th. During our celebrations, we join forces at locations around the world. We work together to transcribe an online collection of Black history and culture. We aim to make Douglass Day open to everyone. Our planning team offers guides to help you learn how to transcribe or how to bring Douglass Day into your classroom. Douglass Day makes a real difference. We help create new resources for everyone to learn about Black history.
Douglass Day is a collective act of radical love for Black history.
A Short History of Douglass Day (video)
---
Highlights of Douglass Day 2020
---
A Short History of Douglass Day (text)
Did you know? Douglass Day helped give rise to Black History Month. It's why we have Black History Month in February.
After Frederick Douglass passed away in 1895, many saw the importance of honoring his memory and activism. In Washington, D.C., a group led by Mary Church Terrell, (an important African American activist, educator, and author) observed Douglass's birthday every February 14th as "Douglass Day." See Terrell's account of creating Douglass Day on the Library of Congress website.
Douglass Day quickly became a school holiday across the country, a time to take children in DC and elsewhere out of school to hear Douglass's words. These celebrations helped give rise to Black History Month, enriching the long tradition of African American rituals for remembering the past. The rituals of remembering became memorials themselves.
Today, we celebrate Douglass Day with a giant birthday party. The Colored Conventions Project helped revive these celebrations as memorials that invite active participation and communal gathering. We hold an online transcribe-a-thon and other events that invite people to participate in the making of Black history.
In 2021, we will focus on Mary Church Terrell, an African American writer, intellectual, educator, and activist. Our collective efforts—what we create on 2/14—helps to remind us that African American history is American history.
Along with transcribing, we hold readings, discussions, and chat on social media — plus stickers, singing, and birthday cake!
---
Archive of Past Douglass Days
Quick facts about Douglass Day
Douglass Day celebrations began around the turn of the 20th century and helped inspire Black History Month
A group at the University of Delaware helped revive Douglass Day in 2017.
This year's event will be the sixth annual celebration of Douglass Day in its latter day form.
Douglass Day helps create new digital resources for African American history each year. All materials created are made free & open to all.
Participation Totals
Estimated totals: 12,550 people in 340 locations
2017 – 250 people in 9 locations
2018 – 1600 people in 130 locations
2019 – 300 people in 9 locations
2020 – 2800 people in 75 locations
2021 – 7600 people in 117 locations
Douglass Day & Colored Conventions Project
The Colored Conventions Project has helped to revive Douglass Day as a way to celebrate Black History Month with a digital and participatory twist.
Special thanks and acknowledgement are due to leaders on the Colored Conventions Project, including (among many others) P. Gabrielle Foreman, Jim Casey, Denise Burgher, Lauren Cooper, datejie cheko green, Carol Rudisell, David Kim, Allison Robinson, Brandi Locke, and Anna Lacy.
Early Douglass Day (2017-2019)
Douglass Day 2020
Featuring Anna Julia Cooper with the Moorland Spingarn Research Center at Howard University
Program (2020)
Activities
Anna Julia Cooper
Douglass Day 2021
Featuring Mary Church Terrell with By The People at the Library of Congress
---
Past posters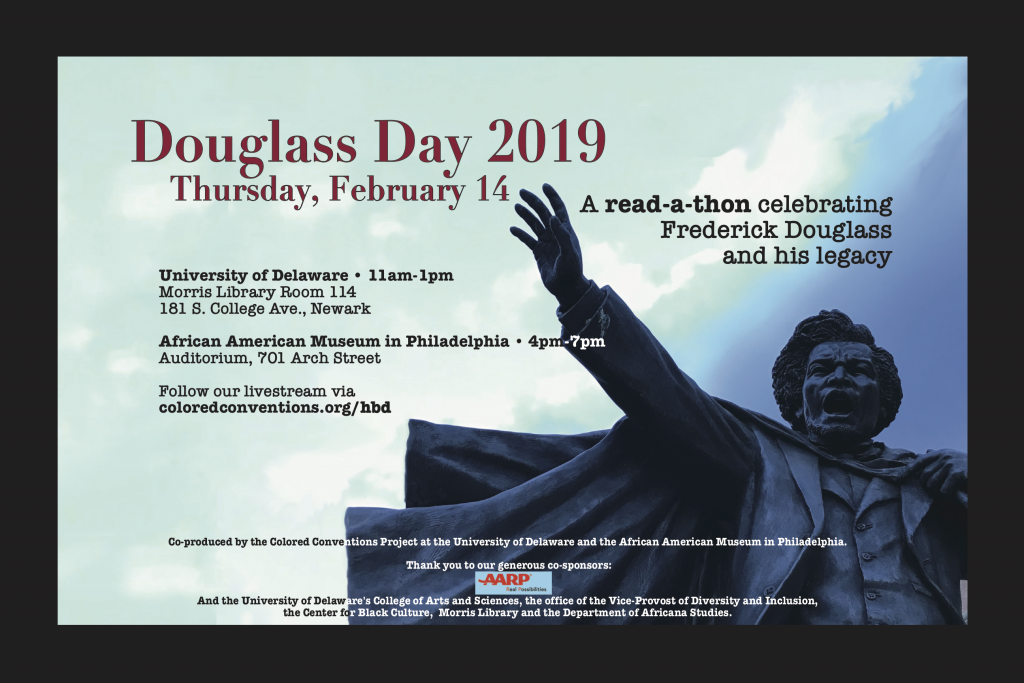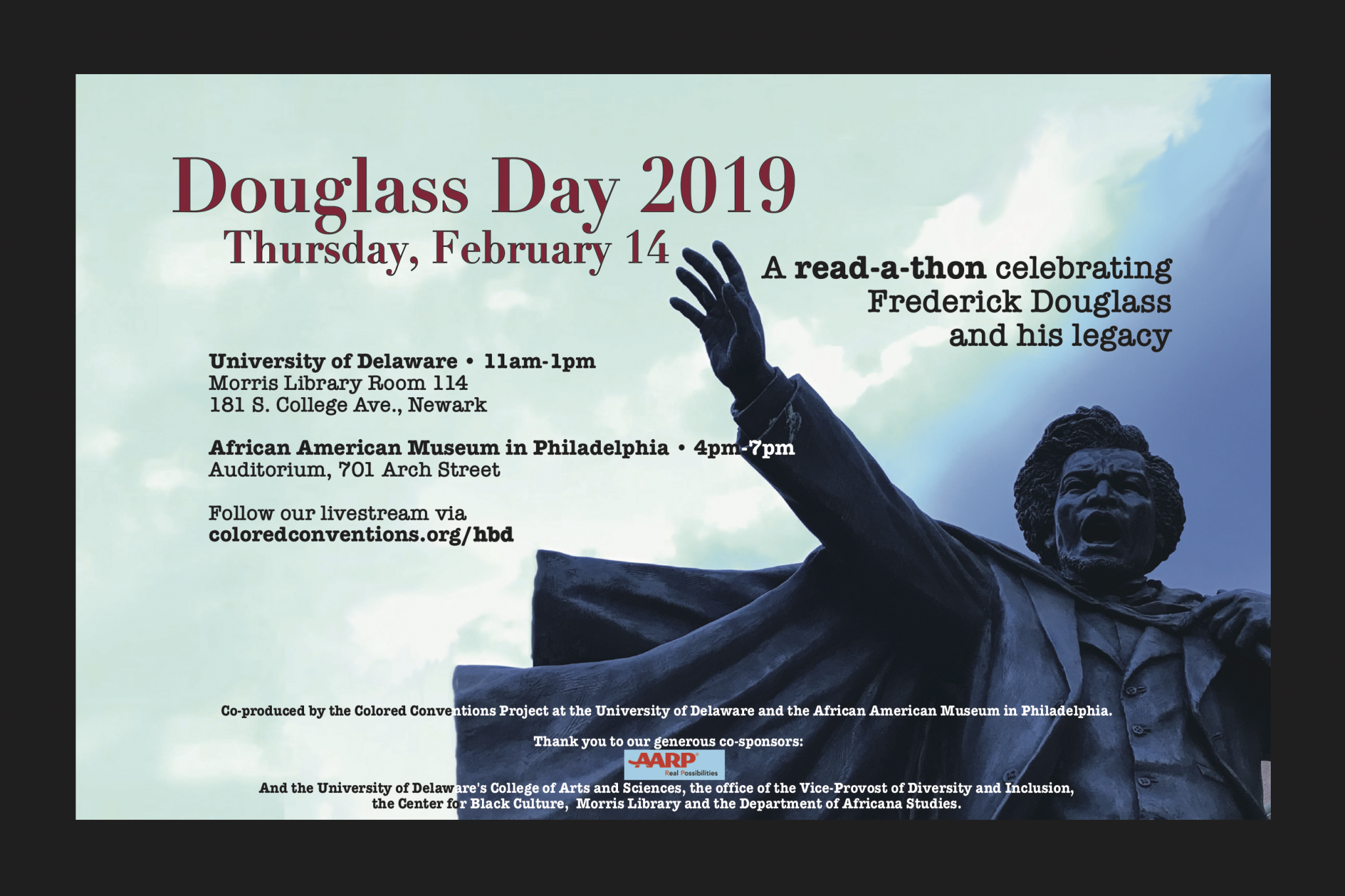 ---
Past coverage of Douglass Day
Keyes, Allison. "Frederick Douglass' 200th Birthday Invites Remembrance and Reflection." Smithsonian Magazine.
Bruce, Jordan. "Students, faculty transcribe black history in library." Trinitonian, Trinity University
Capella, Natalia. "Douglass Day celebrates abolitionist's fight for freedom." UT Daily Beacon, University of Tennessee.
Caruba, Lauren. "San Antonio students carefully transcribing letters of former slaves" San Antonio Express-News.
Duque, Catalina Sofia Dansberger, "UMBC honors Frederick Douglass's legacy with event to transcribe Freedmen's Bureau papers." UMBC News, University of Maryland-Baltimore County.
Holland, Maggie. "Making history permanent: UGA participates in Douglass Day Transcribe-a-thon eventt." The Red & Black, University of Georgia.
Hubbard, Kylie. "UT community members gather to celebrate Frederick Douglass." UT Daily Beacon, University of Tennessee.
Lamson, Lisa. "Frederick Douglass Day: Transcribing History." Historians@Work, Marquette University.
Larkin-Gilmore, Juliet. "Frederick Douglass Day 2018." Center for Digital Humanities, Vanderbilt University.
Manser, Ann. "Happy 200th, Frederick Douglass." UDaily, University of Delaware.
Owens, Ann Marie Deer. "African American history 'transcribe-a-thon' honors Frederick Douglass." Research News @ Vanderbilt University.
Ward, Jared. "Turning historic Freedmen's Bureau Papers into digital documents at Virginia Tech." WDBJ CBS-7. (Video)
Weinstein, Carley. "Happy 200th Birthday Frederick Douglass." News@Hofstra University.
"Celebrating 200 years of Frederick Douglass Through Transcription," Smithsonian Transcription Center.