Biography of Anna Julia Cooper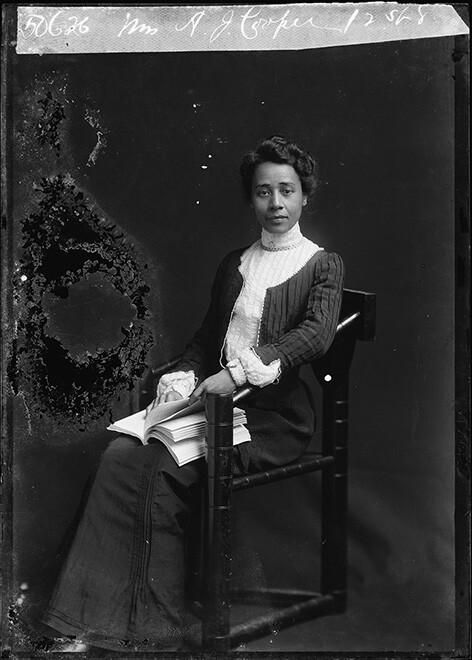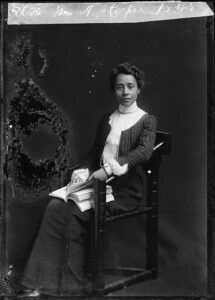 This page provides background on Anna Julia Cooper's life and work. To download the key text for Douglass Day 2020, please see "Woman vs. the Indian."
Short biography
Anna Julia Cooper (1858 – 1964) was a visionary black feminist leader, educator, intellectual, and activist. Born into slavery in 1858, she became the fourth African American woman to earn a doctoral degree when she received her PhD in history from the University of Paris-Sorbonne. A leader in 19th and 20th century black women's organizing, she published what would become a foundational text of Black feminist thought, A Voice from the South by a Black Woman of the South, which argued for the central place of Black women in the battle for equal and civil rights.
Learn more
Anna Julia Cooper (1858 – 1964) was a visionary black feminist leader, educator, intellectual, and activist. She rose to prominence as one of the country's most eloquent and outspoken advocates for race and gender equality.
She was born into slavery in Raleigh, North Carolina in 1858. After Emancipation, Cooper followed the path of many African Americans as she grasped hold of opportunities for an education through the Freedmen's Bureau. Cooper worked her way through St. Augustine's Normal School, a school that had been started in 1867 to help educate formerly enslaved African Americans. During her time at St. Augustine's, Cooper's mother, Hannah Stanley, helped support her.
Cooper was a top student. At age nine, she petitioned successfully for admission into the school's Greek and Latin course. She later went to Oberlin College, along with a small group of other African American educators and leaders. At Oberlin, she had to protest to be allowed into the "Gentlemen's classes" but she persevered and earned her BA and MA in Mathematics.
After earning her college degree, Cooper was recruited for a job teaching in Washington, DC. She began as a teacher at M Street. M Street was the most prestigious secondary school for African Americans in the country, and was later renamed Dunbar High School. Cooper taught at Dunbar for four decades. She spent five years as the principal of Dunbar, waging a "courageous revolt" against inferior curriculum for black students.
While living in Washington, Cooper helped to start many important social, civic, and cultural institutions. She joined the woman's club movement and helped to unite hundreds of local and state groups into the National Association of Colored Women's Clubs. The NACWC is the longest standing black civic organization in the United States.
Key Moments in Cooper's life
1892 – Publishes A Voice from the South
In 1892 Cooper published her most well-known work, A Voice from the South by a Black Woman of the South. In it she identified how systems of oppression and domination converge around issues of race, class and gender. She also argued for the central place of black women in the battle for civil rights.
1925 – Earns her PhD in Paris
In 1925, she became only the fourth black woman in the US to earn her PhD, when she completed and defended her dissertation at the University of Paris, Sorbonne.
1930 – President of Frelinghuysen University
At age 72, she took on the presidency of Frelinghuysen University, a group of community schools for Washington DC's working black residents. When she retired from her position as president in 1940, she continued to serve as the school's registrar until well into her 90s.
1964 – Passes away
Cooper died in 1964, and is buried next to her husband, George Cooper in Raleigh City (VA) Cemetery.
Reflection Questions
What did it mean for Cooper to live a life devoted to fighting injustice and creating opportunities for African Americans?
What was it like to be an intellectual, activist and educator during the era of Jim Crow segregation?
What strategies did Cooper devise to address these challenges?
How did Cooper's deep and abiding commitment to Black communities and Black lives influence the choices she made, the knowledge she produced, and the legacy she leaves behind?
Perspectives on Cooper
Cooper, Brittney C. "Prologue" in Beyond Respectability: The Intellectual Thought of Race Women. University of Illinois Press, 2017.
May, Vivian M. Anna Julia Cooper, Visionary Black Feminist: A Critical Introduction. New York: Routledge, 2007. (Google Books)
Washington, Mary Helen. "Anna Julia Cooper: The Black Feminist Voice of the 1890s." Legacy (1987): 3-15. (via JSTOR)
Additional Resources
Cooper's most well-known text
Anna Julia Cooper, A Voice from the South by a Black Woman of the South (1892)
Digital archive of Cooper's papers (Moorland Spingarn Research Center of Howard University)
Anna Julia Cooper Digital Collection, Digital Howard, MSRC
Video about Black women in the battle for civil and political rights (National Archives)
"African American Women in the Suffrage Movement and the Battle for the Vote"
For continued study
Overview of Cooper's writings (Stanford Encyclopedia)
"Anna Julia Cooper"
Overview of writings and resources by and about Cooper (Oxford Bibliography Online)
"Anna Julia Cooper: An Annotated Bibliography"