Who was Mary Church Terrell?
Mary Church Terrell
Images Courtesy of NMAAHC, NYPL, and the National Archives
Short biography
Mary Church Terrell (1863-1954) was an African American activist, educator, and suffragist. Her career spanned teaching in the Jim Crow Era, marching for the vote, and picketing segregated restaurants in the 1950s. Terrell was born free during the Civil War in Memphis. Alongside lifelong collaborator Anna Julia Cooper, she graduated from Oberlin College in 1884. In 1896, she founded the National Association of Colored Women and served as its first president. Collaborating with diverse activists from Ida B. Wells to Susan B. Anthony, in the first half of the twentieth century, Terrell was a tireless agitator for women's and civil rights. After nearly a century of activism, she lived long enough to see the Supreme Court rule against school segregation, the culmination of a life devoted to education and freedom. Transcribing Terrell's papers provides a valuable window into the long, proud history of Black women's activism.
Don't miss the new biography, Unceasing Militant: The Life of Mary Church Terrell by Alison M. Parker, published in December 2020 (UNC Press)!
Key Moments in Terrell's life
1863 – Born in Memphis, Tennessee.
1880 – Met Frederick Douglass at President James Garfield's Inauguration
1884 – Graduated from Oberlin College, Ohio
1885 – Began teaching at Wilberforce University
1888 – Graduated with a Master's degree in Education from Oberlin College
1895 – Moves to Washington, D.C. to teach in the Latin Department of the M Street School
1896 – Founder of the National Association of Colored Women (NACW); served as first president until 1901
1897 – Created Douglass Day
1904 – Published "Lynching from a Negro's Point of View" in the North American Review
1909 – Charter member, National Association for the Advancement of Colored People (NAACP)
1928 – Published "Phyllis Wheatley—An African Genius" in the Star of the West.
1940 – Published her autobiography, A Colored Woman in a White World
1948 – Awarded an honorary doctorate by Oberlin College
1950 – An 86 year old Terrell protested segregated restaurants in Washington, D.C.
1954 – Passed away in Annapolis, Maryland
---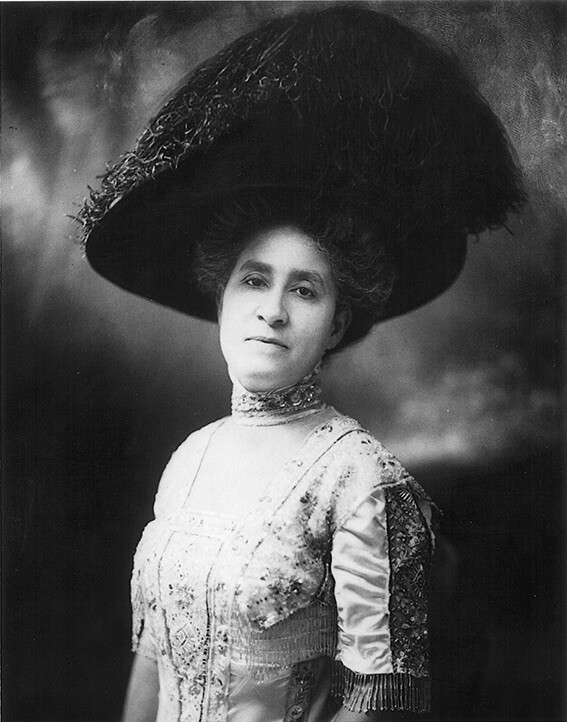 Reflection Questions
What did it mean for Terrell to live a life devoted to fighting injustice and creating opportunities for African Americans?
What was it like to be an intellectual, activist and educator during Jim Crow?
What strategies did Terrell devise to address these challenges?
How did Terrell's deep commitments to Black education, organizations, and political power shape her legacy?
Unceasing Militant: The Life of Mary Church Terrell
---
About Unceasing Militant
(From UNCPress.org) Unceasing Militant is the first full-length biography of Terrell, bringing her vibrant voice and personality to life. Though most accounts of Terrell focus almost exclusively on her public activism, Alison M. Parker also looks at the often turbulent, unexplored moments in her life to provide a more complete account of a woman dedicated to changing the culture and institutions that perpetuated inequality throughout the United States.
Drawing on newly discovered letters and diaries, Parker weaves together the joys and struggles of Terrell's personal, private life with the challenges and achievements of her public, political career, producing a stunning portrait of an often-under recognized political leader.
---
Reviews of Unceasing Militant
"Kudos to Alison Parker for her vivid portrait of the unparalleled Mary Church Terrell. In a life lived between 1863 and the end of slavery and 1954 and the birth of modern civil rights, Terrell used 'dignified agitation' to wage a freedom struggle against lynching and racism and in support of women's votes, equal education, antiwar efforts, and civil rights. Parker does a deep dive into the archives to fashion a compelling life-and-times portrait that places Terrell and black women's politics where they should be: at the heart of nearly every important social movement of the twentieth century. In this ambitious and timely biography, Parker finally gives Terrell the sustained scholarly attention she deserves."—Martha S. Jones, author of Vanguard: How Black Women Broke Barriers, Won the Vote, and Insisted on Equality for All
"I so appreciate Alison Parker's ability to tell the story of Mary Church Terrell's brave and courageous life with a sense of critical compassion."—Ula Taylor, author of The Promise of Patriarchy: Women and the Nation of Islam
"Mary Church Terrell is one of the most important hidden figures of the twentieth century, and Alison Parker's keen yet warm historical eye allows Terrell's life story to blossom. A proudly African American woman born into slavery and raised in freedom, Terrell bore witness to the rise and fall of Jim Crow over a life that spanned almost a century. There is something in Terrell's story for every reader interested in twentieth-century social movements—civil rights, women's rights, prison reform, women's health advocacy, Pan-Africanism, human rights between the two World Wars, and U.S. presidential politics."—Nikki Brown, author of Private Politics and Public Voices: Black Women's Activism from World War I to the New Deal
"This is a wonderful biography of a foundational figure in the history of U.S. civil rights."—Anastasia Curwood, author of Stormy Weather: Middle-Class African American Marriages between the Two World Wars
---
Learn more online about Terrell
Mary Church Terrell: A Resource Guide, by Angela McMillian, Library of Congress
Mary Church Terrell House at 326 T Street, NW, Washington, DC (National Park Service exhibit)
Mary Church Terrell: An Original Oberlin Activist
Perspectives on Terrell
"Toward a History of Access: The Case of Mary Church Terrell," by Elizabeth McHenry, ALH (warning: behind paywall)
Explore more Terrell collections
Mary Church Terrell Papers, at the Library of Congress
Mary Church Terrell Papers at the Moorland Spingarn Research Center, Howard University